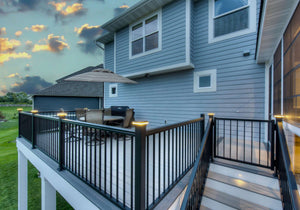 ULTRALOX™ BALUSTRADES & RAILING
Aluminium railing system designed for commercial and residential applications
THE ULTRALOX DIFFERENCE
Ultralox Interlocking Aluminium Railing kits are durable and easy to install, as well as customisable to make your projects stand out from the crowd.
VISIT OFFICIAL ULTRALOX™ WEBSITE
Fully Customisable
Choose your Profile
Aluminium picket railing system strong enough for commercial applications with elegance and beauty for any residential application.
Choose your colour
Whether you are looking for a standard black or white railing or something more unique to fit your space, we've got you covered.
Choose your infill
Our aluminium baluster railing is where it all started. Known for its beautiful low-profile design, our picket infills allow you to enjoy more of the view you love while giving you the security and safety you need.
Benefits of Ultralox
MAXIMISE YOUR VIEW
Our aluminium balustrading comes in spans of 1.8m to increase your view, so you don't miss a single thing.
EASY ASSEMBLY
With our easy pre-assembled kits and simple installation instructions, get your new railing up and running fast!
PEACE OF MIND
With a 20-year limited warranty, the last thing you'll have to worry about is the quality of your new aluminium railing system.
EXPLORE RAILING PROFILES
ULTRALOX INTERLOCKING® TECHNOLOGY balustrade systems are available in a multitude of styles, colours and configurations, including picket and glass options. You can even design your own using our colours and top rail selections.
TRY THE RAILING CONFIGURATOR
ULTRALOX IN ACTION
Ready to start your ULTRALOX project but stuck on where to start? Explore our gallery page for some inspiration from our happy customers from around the globe.
EXPLORE GALLERY
READY TO START YOUR ULTRALOX PROJECT?