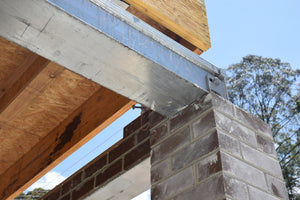 A stronger solution with a better finish
An off-the-shelf alternative to a traditional T-Bar
The SMART™ Maxi T-Bar is an off-the-shelf structural T-Bar solution that is similar in strength to a built-up PFC + Plate assembly with the added benefit of a higher quality brickwork finish. Most commonly used in single-level garage and alfresco brick opening applications.
WHAT ARE THE BENEFITS?
Cost reduction of up to $700*
Off-the-shelf product: Save on galvanising lead-times
Next Day Delivery across Sydney Metro
50% reduction on fabrication/production lead-time compared to PFC + Plate assembly
Available in a variety of cost-effective lengths and sections to suit both 230 and 270 double brick
Better aesthetic appearance for finished brickwork compared to a PFC + Plate assembly
Increased strength compared to traditional T-Bar
Engineer Approved
WHAT ARE THE COST SAVINGS?
There is a significant cost reduction in certain applications such as over a single level garage and brick opening on alfresco applications. When comparing the SMART™ Maxi T-Bar to a traditional primed or hot-dipped galvanised PFC + Flat Bar assembly, you can look to save up to 30% in costs.
PLUS, you have the added benefit of the SMART™ Maxi T-Bar being an off-the-shelf solution, meaning you order for next-day delivery across Sydney Metro, with a range of lengths and profiles always in stock.
Based on an average of 3 T-Bars per single-level dwelling, and building 20 homes per year, you can look to save over $42,000 when switching to the SMART™ Maxi T-Bar!
DRAWINGS
Want to know more?
Interested in reading more about the SMART™ Maxi T-Bar? Download a copy of the brochure or contact us to find out how your engineers can substitute this in to your next project!