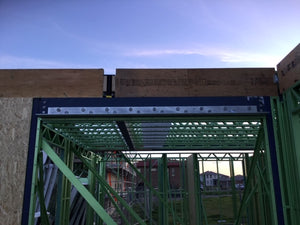 The SMART™ alternative for window & sliding door applications
WHAT ARE THE BENEFITS?
Cost reduction of up to $600*
Off-the-shelf product: Save on galvanising lead-times
Reduction and elimination of twisted, bowed and deformed galvanised beams
The SMART™ Compi Angle can be easily uninstalled such as if there is a change to the design
Engineer Approved
When compared to primed alternatives, switching to the SMART™ Compi Angle gives the added benefit of Galvanised component at a primed cost
DRAWINGS
WHAT ARE THE COST SAVINGS?
*SAVE GALVANISING COSTS: When compared to the traditional alternative of a hot-dipped galvanised PFC & Plate, the SMART™ Compi Angle provides a faster lead time and cost-saving on galvanising requirements. By switching to the SMART™ Compi Angle, save up to 30%.
Based on just 1 application of the SMART™ Compi Angle per build instead of a traditional 5000mm HDG 250 PFC + Plate, with 20 projects per year you can look to save approximately $11,500!
Want to know more?
Interested in reading more about the SMART™ Compi Angle? Download a copy of the brochure or contact us to find out how your engineers can substitute this in to your next project!